WHAT WE DO
Our research spans the spectrum of healthcare delivery, from wellness and disease prevention to management and social determinants of health. The knowledge generated by our research affects change at the individual, community, and health system levels. Over the past ten years, our research has reached beyond the university walls, broadening its impact. The Military Primary Care Research Network reaches out to patients across the Military Health System, partnering with family medicine researchers at the 15 DoD Family Medicine Residency Programs to engage communities through participatory research.
Ongoing studies include:
Acupuncture as an integrative approach to pain management to understand and evaluate the patient-centered outcomes of medical acupuncture. This multi-site mixed-method study examines the implementation of acupuncture training and practice.
Coaching service members through a healthy transition to retirement to evaluate the association between military retirement status and a patient's perceived ability to control their prediabetes or type 2 diabetes through training modules that foster healthy behaviors.
Diabetes ROADMAP: An intervention to address health disparities through personalized diagnosis communication to design and evaluate a culturally-centered intervention that motivates patients newly diagnosed with prediabetes and type 2 diabetes to adopt self-management behaviors.
Optimizing a multi-modal intervention to reduce health-risking sexual behavior to identify attitudes, perceptions, and behaviors associated with health-risking sexual behavior among U.S. military servicemembers, and to design and evaluate an e-health intervention to reduce these behaviors.
Pilot assessment of using remotely-supervised medics and corpsmen to enhance access to urgent and primary care to determine if selected medics, corpsmen, and medical technicians equipped with mobile decision support and telehealth access to an MHS primary care provider can safely deliver basic primary and urgent care in a variety of settings.
OUR LABS
INJURY PREVENTION RESEARCH LAB
The Injury Prevention Research Laboratory (IPRL) monitors the epidemiology, investigates the mechanisms, and researches prevention and treatment strategies of musculoskeletal injuries in the active-duty, dependent, and retired military population and in related cohorts. Currently, our work includes the development of injury prediction and prevention programs for musculoskeletal injury in military, training, and active populations.
Additionally, the IPRL supports and collaborates with related academic endeavors with the Consortium for Health And Military Performance (CHAMP) and the National Capital Consortium's Military Primary Care Sports Medicine Fellowship.
Some of Our Partners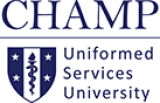 VOLUNTEERS
Volunteers gain valuable research experience and may even develop their own sports medicine research project with IPRL mentorship. If you would like information about volunteering with the IPRL please contact Sarah de la Motte at (301) 295-9460 or email at sarah.delamotte@usuhs.edu.